I had these really cute blocks I won on a giveaway that spelled out SPRING on one side and EASTER on the other... they looked so cute on my mantel with all my springy decor. However, once spring came and went, I took them down, and somehow (probably because I'm not the best at packing things up right away) the kids got ahold of them and used them as building blocks. They had so much fun with them, that I just let them play with them.
Well, as you can see, the little rugrats used them so much, they started falling apart. The paper was peeling off of them, and I seem to be missing a block of two???? So I decided to repurpose them into some Halloween blocks. I was originally thinking of doing FALL on one side and BOO on the other with a ghost..... but as I was rummaging through my craft paper, I saw a haunted house scene and got a great idea...
I cut the paper to length and split the paper into 3 pieces... slapped on a little mod podge...
and Voila!
Linked to: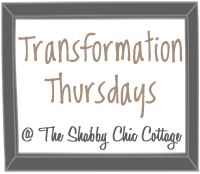 Show & Tell with Shey
The Gypsy's Corner
The CSI Project: Fall Challenge
Hope Studios: Tutorial Tuesday